Forum Threads
---
Shop Changes
Started By GM | 08th Jul 2019 - 12:17 AM
---
---
It's been a really long time since we updated our donation store offers so it's about time to bring you these awesome special deals!
From now on the shadow crate says good bye to the list of special rewards for your donations and the brand new exotic shadow crate arrives to the server.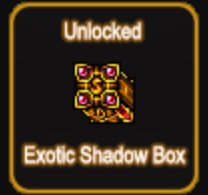 You will get a different amount of free exotic shadow boxes based on the donated amount you choose.
You can also trade your nocturnal tokens for exotic shadow boxes on the nocturnal shop on depot +2
Further Changes:
We have reduced by half the price of golden boxes in the donor shop (from 90 to 45).
Shadow crates have arrived to the points store (with some changes), considering the high tier of this box its price has been set to 150 points each.
We have added new addons and 1 new aura to the nocturnal token shop.
We have fixed the bug which caused descriptions of the store to have double or triple descriptions.
---